on September 2, 2010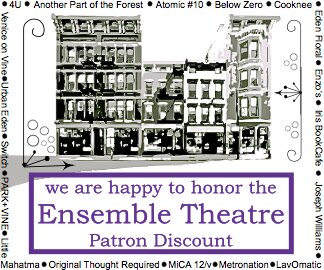 Are you a patron of Cincinnati's Ensemble Theatre (ETC) or the Know Theatre? Well, if you are not already, then we certainly encourage you to attend one, several, or all of the live theater plays presented by our neighbors and friends at the Live Theatre's in our community. This year is their 25th, Silver Anniversary Season and the Ensemble is an integral part of the arts community in Cincinnati's Over-the-Rhine neighborhood. See the previous blog entry or visit the Ensemble Theatre's website for more information about this season's schedule.
If you are a are one of the many wonderful patrons of the ETC and Know Theatre we have a special discount for you to say thanks for supporting the Theatre's wonderful work. Simply show you ETC or Know ticket or ticket stub at the following businesses in OTR's Gateway Quarter neighborhood and receive at least 10% off of your purchase (of course this is a little different at each independently owned business in the Gateway Quarter so be sure to ask what discount is available to ETC & Know Theatre ticket holders before deciding on your final purchase):
4U urban fashion boutique – (12th St), Another Part of the Forest – (Main St), Atomic #10 – (Main St), Below Zero Lounge — (12th & Walnut St), Cooknee Euro Style Cabinet – (12th & Vine St), Eden Floral Boutique – (12th & Walnut St), Enzo's OTR – (Race St), Iris BookCafe' – (Main St), Joseph Williams Home – (13th & Vine St), Lavomatic – (Vine St), Lackman Bar – (13th & Vine St), MiCA 12/v – (12th & Vine St), Original Thought Required- (Main St), The Little Mahatma – (Vine St), PARK+VINE – (on Vine moving to Main St), Switch Lighting and Design – (Vine St), Urban Eden- (Main St), Venice on Vine – (13th & Vine St).
Thanks So Much.